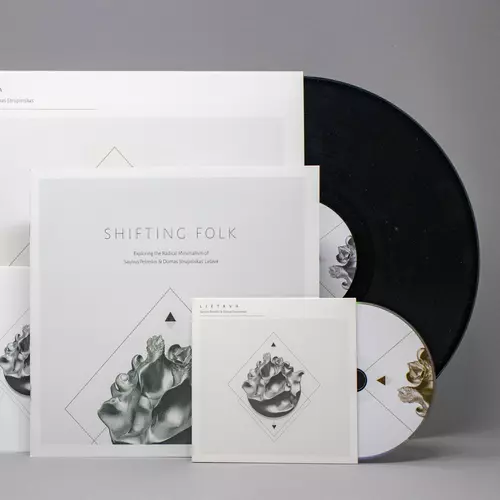 Lietava
Available Formats
Tracks
Price
Buy
12" Vinyl Album (Complete Edition)
16 tracks

£

25.00

Out of stock
Description
Saulius Petreikis & Domas Strupinskas - Lietava
Beautiful vinyl and CD albums, inspired by minimalism and white label techno releases, accompanied by a limited edition 40 page book exploring the many stories of the Lietava project. This bundle also includes some lovely postcards featuring the instrument photographs.

"The world changes; so should folk. It has to be a living thing. Because we live now!" - Domas Strupinskas

Lietava is a celebration of sixteen rare traditional Lithuanian folk instruments by the highly respected Lithuanian musicians Saulius Petreikis and Domas Strupinskas. These are instruments that once had pivotal roles for the people of historic Lithuania, yet many are now all but forgotten; some have never been professionally recorded before.

This bundle includes a beautiful, limited edition book exploring the many stories of Lietava. Centred around an interview with Saulius Petreikis and Domas Strupinskas, the book also delves into the histories of these rare instruments.

Through their approach to the production and performance of the album, Domas and Saulius have created an aesthetic manifesto about the relationship between tradition and renewal. Produced at the Nida Art Colony in Lithuania and inspired by minimalism and documentary sound recordings, it serves to challenge folk orthodoxy; an approach for which the artists have coined the term 'shifting folk'.

This makes for an album that is at once reverent and beautiful but equally striking, minimalist and radical.

The artwork for Lietava was conceived and produced by Lithuanian artist Lauryna Narkevičiūtė, drawing on the concept of shifting folk, historic Lithuanian cultural artefacts and minimalism.

Tracklisting
12" Vinyl Album (Complete Edition) (CON208BU)
Kerdžiaus Ragas

Diatoninė Birbynė

Rago Trimitas

Skudučiai

Sekminių ragelis

Dambrelis

Molinukai

Žvejų Lenta

Daudytės

Kanklės

Ožragis

Švilpa

Ragai

Labanoro Dūda

Bandonija

Lamzdelis